Floor map
1F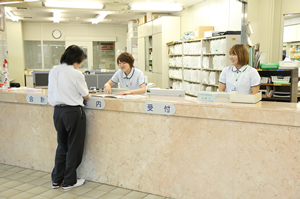 Reception
Located directly in front as you enter the hospital. In addition to outpatient examinations, we also welcome any questions, etc. you may have during your first visit, etc.
Internal medicine
It is a great relief to hospitalized patients to be able to receive internal medicine care within the hospital. We offer a full range of the latest devices such as stomach fluoroscopy and CT tests.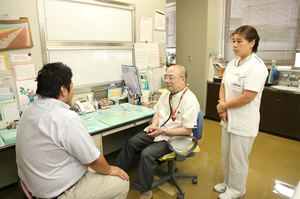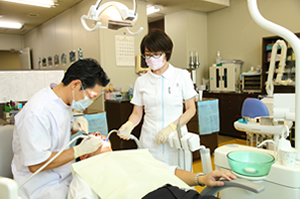 Dentistry
We provide kind support for the elderly as well, such as being able to move right next to examination equipment without getting out of wheelchairs, etc.Because they specialize in oral surgery, they can also provide advanced treatment including the creation of dentures.
Rehabilitation department
The full staff of physical therapists, occupational therapists, and speech and language therapists provide kind and strong support for all our patients' rehabilitation.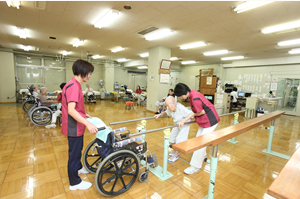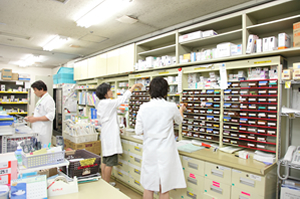 Pharmacy
Our hospital's pharmacy collects and provides outpatient and inpatient pharmaceutical information, dosing instructions, and medicine information. Our hospital's pharmacy also utilizes in-house prescriptions. Therefore patients can wait for their medicine in the comfort of the hospital reception lobby without having to go out to a pharmacy after their medical examination.
CT, X-ray, and roentgen room
We can perform accurate test using the high-speed multislice CT we have installed in recent years. This enables shorter examination times. We can also perform image diagnostics using our general X-ray equipment and X-ray TV systems.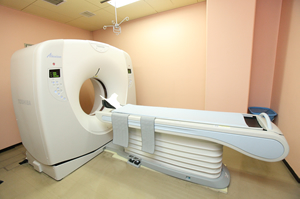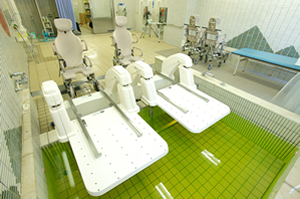 Special bathing rooms
We utilize various mechanical bathing equipment that is easy on the patients. They can be bathed with peace of mind.
Medical consultation room
We accept consultations of hospitalization. You are also welcome to visit the medical consultation room regarding any concern you have, however small. This is also the place for any complaints, etc. you may have while at the hospital. If you wish to use it, please either phone directly or inquire with hospital staff.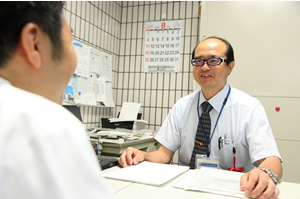 2F~5F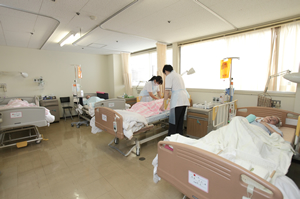 Patient rooms
We have 4-person and private hospital rooms which are bright and spacious. We make sure all the rooms create a pleasant and clean living environment.
Nurse center
A nurse center is located centrally in each ward. All the staff is working hard to ensure that patients can receive nursing and caregiving service with peace of mind.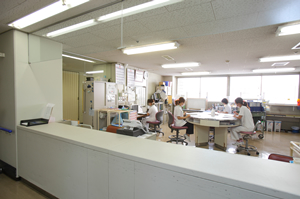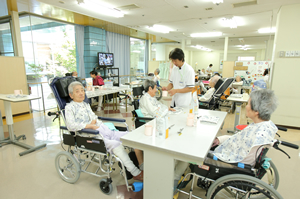 Cafeteria lounge
A cafeteria and lounge are located in each ward. We provide delicious and well-balanced meals. They are spacious enough that those in wheelchairs can use them without worry.
Indoor View inside hospital
You can see a 360° view of the inside of the hospital.
Please click here to view a large screen.